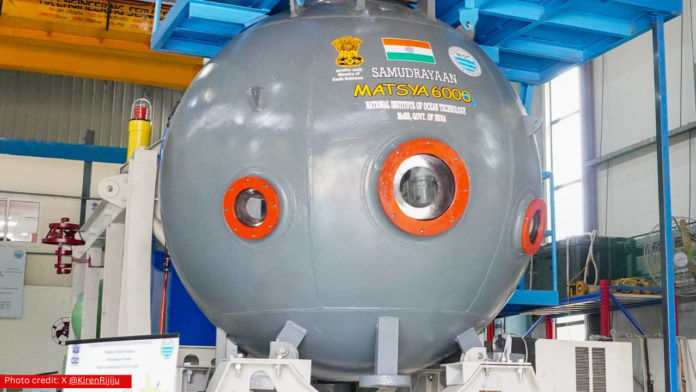 What is Samudrayaan Mission?
Samudrayaan Mission, a part of India's Deep Ocean Mission, is India's 1st manned Deep Ocean Mission aims to dispatch a team of 3 individuals into the remarkable 6 kilometers depths of the ocean. Here are some key facts about this mission.
The Government of India has launched Deep Ocean Mission (DOM) through the Ministry of Earth Sciences (MoES)
Samudrayaan Mission was as formally launched on September 2021 and its' successful trial was conducted in Oct 2021.
The expected duration is five years, from 2020-2021 to 2025-2026.
The anticipated cost for the Mission's two phases is approximately Rs. 4,077 Crores.
The project will have no adverse impact on the ocean ecosystem.
The United Nations' International Seabed Authority (ISA) has designated India a region spanning 150,000 square kilometers (58,000 square miles) within the Central Indian Ocean Basin (CIOB) as an Exclusive Economic zones for the purpose of extracting polymetallic nodules (PMN). Polymetallic nodules are small, hard formations found on the deep ocean floor, containing valuable metals like manganese, nickel, copper, cobalt, and iron.
The Deep Ocean Mission supports Government of India's 'Blue Economy' vision. To successfully execute this project National Institute of Ocean Technology (NIOT) is developing 'Matsya 6000' submersible.
What is 'Matsya 6000' submersible?
'Matsya' meaning Fish in English.
It is deep ocean self propelled submersible that is being developed by National Institute of Ocean Technology (NIOT) Chennai.
It can carry maximum 3 persons.
Its operational period lasts for 12 hours, and in emergency situations, it can endure for up to 96 hours.
Through direct interventions, it will enable scientific personnel to observe and gain insights into uncharted deep-sea regions.
It is expected to launch in 2026.
By undertaking this mission, India has the potential to join the prestigious group of nations possessing specialized technology and vehicles for conducting subsea missions, alongside countries such as the United States, Russia, France, Japan, and China.
As per the CENTRE FOR MARINE LIVING RESOURCES & ECOLOGY, The Deep Ocean Missing focuses the following six thematic areas
Development of Technologies for Deep Sea Mining, Manned Submersible, and Underwater Robotics,
Development of Ocean Climate Change Advisory Services,
Technological innovations for exploration and conservation of deep-sea biodiversity,
Deep Ocean Survey and Exploration.
Energy and freshwater from the Ocean and
Advanced Marine Station for Ocean Biology which will be implemented by the institutions of MoES and its partner institutions
What is 'Blue Economy'?
According to the World Bank, the blue economy is the "sustainable use of ocean resources for economic growth, improved livelihoods, and jobs while preserving the health of ocean ecosystem."
Frequently Asked Questions (FAQs)
When was the Samudrayaan mission launched?
Which ministry is Samudrayaan mission?
Ministry of Earth Sciences 
What is the name of the mission vehicle of Samudrayaan?
What is the aim of Samudrayaan project?
Development of Technologies for Deep Sea Mining, Manned Submersible, and Underwater Robotics. Deep Ocean Survey and Exploration,
What is the capacity of MATSYA 6000?
What is Matsya 6000 launch date?
Expected to be launch in 2026. Trials will begin in 2024
Click here to read more such informative articles